28 Sep 2022 at 5:46 am (GMT+0000+0)
#8567
RIB CostX
Moderator
"Hi Lawrence,
You might have to contact your IT to perform the below steps.
The symptoms of this issue are that the text in the measure distance tool (and other places) does not display, but instead you see an empty grey box. One cause may be another piece of software making changes to the fonts or font registry entries and not keeping them in sync. One main culprit that was found in the past was when someone upgrades from a previous version of MS Office (before 2016) to either Office 2016 or Office 365. What happens in this case is that Microsoft removes the "Arial Unicode MS" font from the file system but the registry entry is not removed. This causes an issue because uses the font information in the registry to find the fonts that are available on the system. If "Arial Unicode MS" exists, we will usually try to use this font.
To verify if the "Arial Unicode MS" font is on the system, you can do the following steps (assuming the user has installed Windows in the standard location):
Click the Start Button and type cmd.exe, then press enter. This should open a command console.
If the command prompt does not start with C:, type C:, then press enter. This will make sure we are navigating the primary hard drive.
Type cd \Windows\Fonts to navigate to the Windows  Font directory.
Type dir arialuni.ttf and press enter.
If the file exists, the command console should list the file with its creation date and file size (around 23MB). If the file does not exists the console will show "File Not Found" (see screenshot below).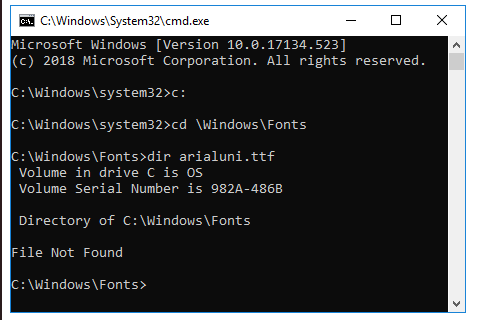 To verify if the font is in the registry, do the following steps:
Click the Start Button and type regedit.exe and press enter. This will open the Windows Registry Editor.
In the tree on the left navigate to the following path (in Windows      10 you can enter this path directly below the menu bar):
Computer\HKEY_LOCAL_MACHINE\SOFTWARE\Microsoft\Windows NT\CurrentVersion\Fonts
You should see a list of fonts that are registered on your machine.      Look for a font in the list called Arial Unicode MS (TrueType).
This screenshot is from a test Windows 7 machine showing the Arial Unicode MS font in the list.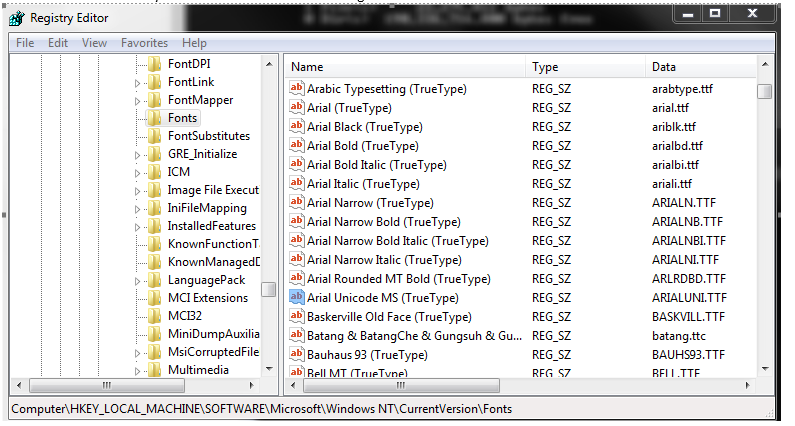 If  you do not have the Arial Unicode font on their machine, but the Arial Unicode font does exist in the registry you may delete the entry from the registry (right-click on the registry entry and press delete). If this is not the case, don't change anything on the system as the issue is something different.
Kind regards,
CostX Forum Admin